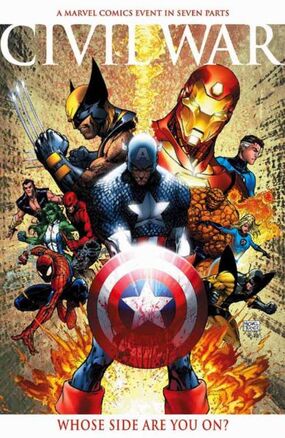 Thông tin
Edit
Tên gốc: Civil War
Nhân vật: X-men, Fantastic 4, Iron Man, Spider-Man, Captain American,...
Thiên hà: Earth-616
Tác giả: Mark Millar, Steve McNiven.
Tình trạng: Hết phát hành
Thời gian: 2006-2007
Dịch thuật: Comixvn (Venom, Paircorner, TTA269)
Truyện xoay xung quanh đạo luật đăng kí dành cho siêu nhân sau khi một tấn thảm kịch xảy ra tại Stampford của Hoa Kì, luật yêu cầu tất cả những ai có khả năng đặc biệt đều phải đến thông báo và đăng kí với chính quyền, những ai không tuân thủ sẽ bị coi như là tội phạm và bị bắt giam, ngoài ra những người đến đang kí nếu đồng ý làm việc cho tổ chức cảnh sát S.H.I.E.L.D sẽ được huấn luyện, đào tạo và sẽ được trả lương như một công chức nhà nước. điều này đã dẫn đến một sự chia rẽ lớn trong lực lượng siêu anh hùng.
Thế giới superheroes sau đó bị chia làm 2 phe. Một phe do Iron man đứng đầu ủng hộ luật này bởi họ xem đấy là một bổn phận phải có trách nhiệm của siêu anh hùng. Trong khi phe khác do Captain American đứng đầu lại kịch liệt phản đối và cho rằng như vậy là xâm phạm lòng tự trọng và quyền tự do của một hero. Thế là cuộc chiến tranh của các anh hùng nổ ra.
Upload by Comixvn comixvn.net
RAR Files
Edit
001: Mediafire | AZSharing 002: Mediafire | AZSharing
PDF Files
Edit
comixvn.com
Ad blocker interference detected!
Wikia is a free-to-use site that makes money from advertising. We have a modified experience for viewers using ad blockers

Wikia is not accessible if you've made further modifications. Remove the custom ad blocker rule(s) and the page will load as expected.